HARNESS THE POWER OF YOUR 1ST PARTY DATA
No matter the size of your business or organization,
de-anonymizing your website visitors is the next step.
Capturing & identifying anonymous website visitors can replace your current spends for pennies on the dollar:
Reduce expensive subscriptions to 3rd party lead providers
Replace anonymous retargeting using display ads in paid search
Reduce your overall paid search spend
Eliminate costly 3rd party data conquest campaigns
Eliminate costly display ad paid search
Gauge where your traffic came from to evaluate overall marketing spend strengths and weaknesses
Avoid the cookie collapse and stay ahead of the pack by capturing your own 1st party data with our feather light script that doesn't weigh your website down.
Access your previously anonymous website visitors contact information by first name, last name, email address, physical address, webpages visited, phone number (when not on National Do Not Call Registry), and more included.
See what actions each person has taken navigating through your website pages. This information is collected into a report and sent back to the dashboard within 10 minutes.
Identify website visitors who browsed your website but never made an inquiry or signed up for a newsletter. This is an exciting opportunity for you to directly engage your missed opportunities.
THE CAPTURED DATA MAY BE USED FOR: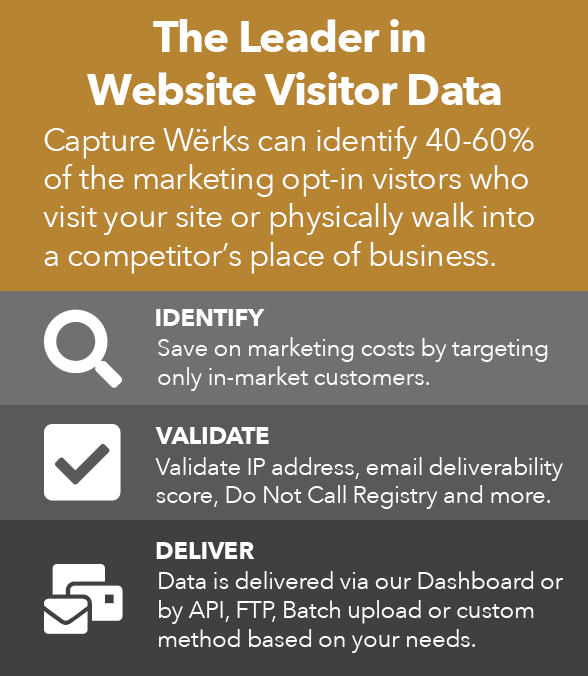 Direct to CRM connection utilizes email drip sequence to increase engagement and convert buyers.

Direct dial phone calls.

Match and clone audiences to target through social platforms.

Create 1st party audiences within paid search channels.

Capture Wërks Turn Key Nurture Platform
THE CAPTURED DATA MAY NOT BE USED FOR:
SMS text

Ringless Voicemail

Robo Calling
We take all of your identified visitors and run them through our multi-method validation process to make sure the visitors email is deliverable and matched to the right person. In addition, we only send you the matches who signed up to receive third-party offers, so you can market to them in confidence.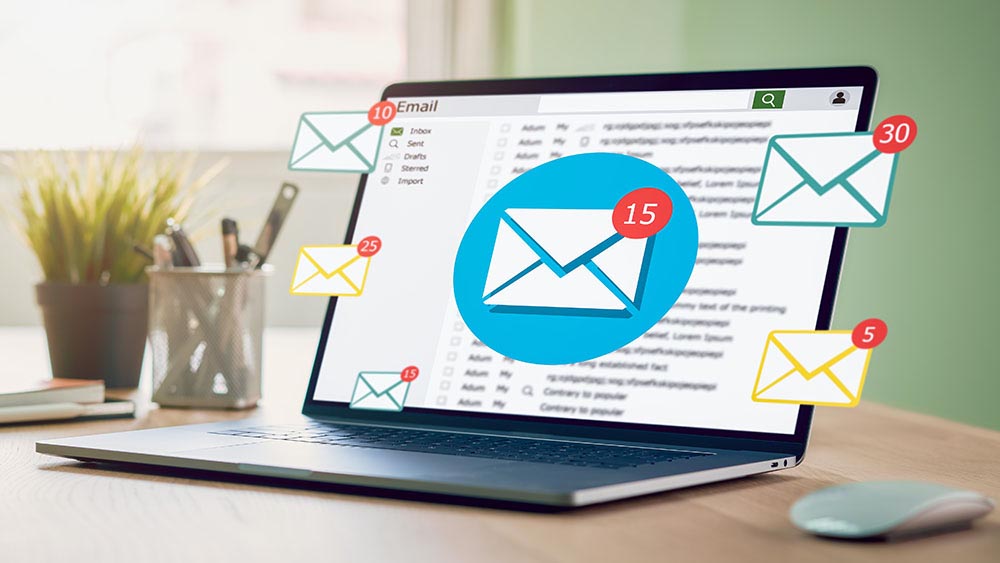 99.5% Deliverable Email Addresses
Capture Wërks provides a smarter way to clean emails through our multi-method validation approach. We combine both real-time email verification and email hygiene, that identifies more hard bounces and email threats such as spamtraps, complainers, bots, and more. By simply removing these harmful email addresses, it will increase email deliverability performance, help create conversions, increase website traffic, raise engagement rates, and improve sender reputation.
Through advanced hygiene tools we can help you improve your deliverability rates, save money, eliminate wasted postage by updating addresses, and keeping your database free of outdated and inaccurate addresses.
STOP 90% OF RETURNED MAIL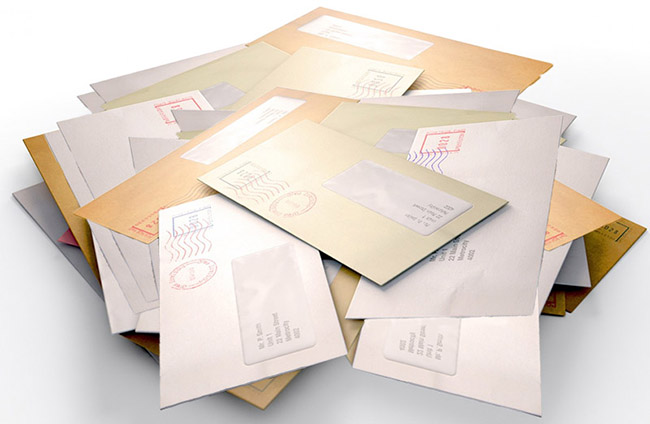 CASS: Coding Accuracy Support System™
This supports address verification with a measurable standard for accuracy. It also represents a very high bar set by the US Postal Service to ensure that address verification meets very strict quality standards.
Delivery Point Validation™
This process verifies that an address is actually deliverable, meaning that mail can be sent to that address. A submitted address is checked against our authoritative database, and if there's a matching entry in our database, the submitted address is declared "valid." If there's no matching address in the database, the address is "invalid," and mail cannot be shipped there.
True People-Based Marketing.
To utilize MAIDs you need a partner with a large data pool, and that's where Capture Wërks comes in! We take multiple IDs for a given user and cross-reference it against existing data. After, we make sure the person you're seeing…is really the person you're seeing.
What does a MAID look like?
A sequence of digits that identify a persons device.
For example: 504340280EA00B10
MD5 HASH TO EMAIL IDENTIFICATION
An MD5 hash is a single "cryptographic string of letters and numbers."
This data can be an email address that has been converted into a 32-character hexadecimal string:
[43307bb5a669b247270a4d81cce6f3ff]

Capture Wërks can take these hexadecimal strings and output them to usable email addresses if they are (matched in our database.)